Once Upon a Time in
Argentina


Buicks in
Moscow



by Andy Chrisanfov

Why the Y job?



Harley Earl's Dream

Reaching the Boiling Point


Boyce Moto-Meter History
by Victor Koma

Your Car is a War Car Now



Gasoline Rationing in WWII

Buick Trucks!
Yes there were
by Albert Mroz

Charles S. Howard



Buick Salesman of the Century

The Flexible

Company and Buick
Who Remembers David Dunbar Buick?



Jed Clampett's Buick?

Marquette's Day in the Sun


by Albert Mroz


Galloping Goose Buick Rail Motor


by Karl Schaeffer
Assorted images, Buick and otherwise
that I'm not sure where else to put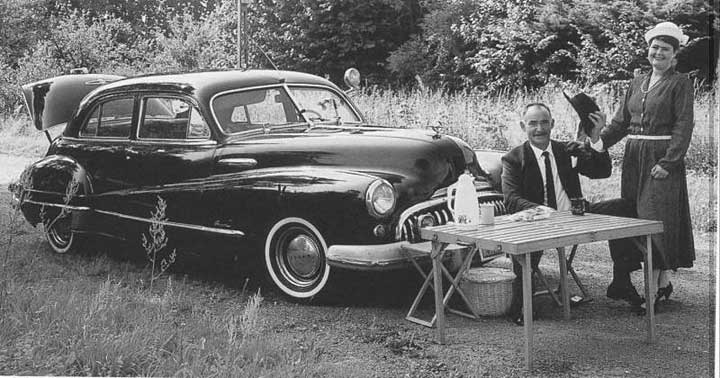 Yes it's post-war, but can you resist the charm of Pelle Svensson and his girlfriend Marie?
Car was sold new to the Indian embassy in Stockholm, then to a police officer in Malmo.
Svensson serviced the car for many years and ultimately bought it.
Click here to see Svensson's nephew Michael Schiebler's site.



Which of these vehicles is more interesting? Both offer luxury in motion, and true '30s style.


Thanks to Jeannie Neil for sharing this of great-uncle Leroy Otto Bullard and wife Aileen, in southern Alabama, probably in 1938. Looks like a 1935 or '36 Chevrolet.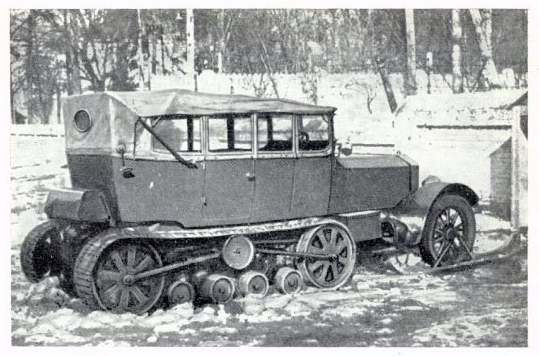 What, a Rolls-Royce half-track?? But of course Andy Chrisanfov has the goods on it:


'This is an Alpine Eagle conversion for Russian winter roads, said to have been made especially for one Mr. Lenin back in the early '20s. The base vehicle [can you really use that term for a Rolls?] was confiscated from some member of the Russian nobility and equipped with the so-called 'Kregresse drive' -- a hang-on device converting any car to a halftrack 'Kegresse audosledge'. (Adolphe Kegresse, born French, lived in Russia and served as a consulting engineer to one of our former imperial departments. He was the very man behind the later Citroen half-track lories upon returning to his native France [see next pic below].) The car still exists and is kept in one of the still-numerous Lenin museums. RR Silver Ghost was a very popular vehicle amid the motorized Russian nobility, being a well-built and tough chariot, quite capable of withstanding our awful running conditions -- even in winter. The Czar himself had a limo on this chassis. By the way, the original Alpine Eagle tourer was a 1914 model.'


There was an advertising slogan for vodka, some years back: 'it leaves you breathless'. You might say the same about AC's encyclopedic knowledge of automobiles and their history. Here's the Citroen referred to above: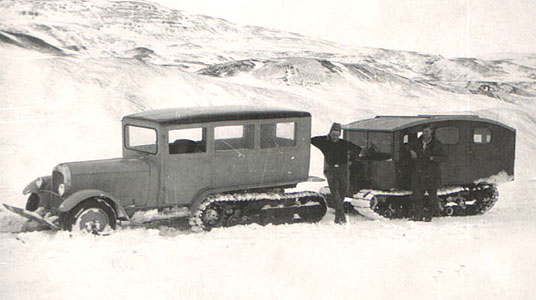 That Citroen is courtesy Orlygur Svavarsson in Egilsstadir, Iceland, who has a website of trucks and other items of interest there. Click on the pic to visit.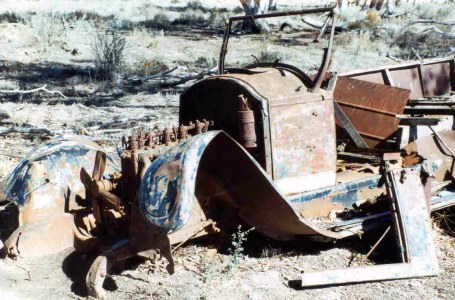 The remnant below isn't of a Buick, it's a McLaughlin in the Australian outback. This one was rescued, Hurrah! Otherwise I wouldn't show it.