to Buenos Aires of more than a century ago!
b b b a a a
In 1885, my great-grandfather Paul Deschamps
came from France along with his parents and brothers to live in Argentina. With them came a close friend of the family, Adolphe Neyer, and his wife Désirée.
Paul Deschamps set up shop in Buenos Aires as jeweller, watchmaker and optician, in Artes Street 647. (In 1907 the street name was changed to Carlos Pellegrini.) In 1886 he married another new arrival, Louise Thiebaut, and together had three children: Bleuette in 1888, Maurice 1893 and Rene 1895.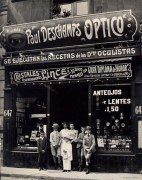 Adolphe Neyer bought a house in a neighbourhood called El Tigre, a marina or nautica with houses right on the river to park your boat. In 1892 he set up a big pharmacy, the biggest in Argentina then, and eventually the world's biggest.
Every weekend, the Deschamps family went to El Tigre to spend Sundays together with the Neyers.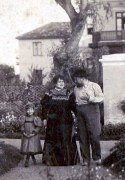 Both Paul and Adolphe were fond of new inventions, modern things of their time. Travelling to Paris every year to buy things for their shops, they got acquainted with photography, cinema and cars. Adolphe become mad for cars, and Paul for photography.
Paul bought a stereoscopic camera in 1893, and took an immense number of pictures - each being two almost-identical images mounted over a very thin crystal of 9x18 cm, one beside the other. You then put those crystals in a box, put your head inside and saw a three-dimensional view.
On one of those trips Adolphe got to know an Argentine man, Dalmiro Varela Castex, a rich man even among well-to-do people -- as one might say Vanderbilt or Astor. Dalmiro too was captivated by the new vehicles, and in 1888 introduced the very first car into Argentina, a steam-powered De Dion Bouton tricycle.
Another car might have arrived that year, a Holzman four-wheeler, by Eleazar Herrera Motta, from a province north of Argentina called La Rioja. But that car never worked well, and was successively sold to various owners till it was dismantled and crossed the Andes Mountains on horseback, piece by piece, to Chile. There it was assembled again but never worked (they said it was bewitched), was sold for scrap and lost in time. The poor Holzman had a sad life.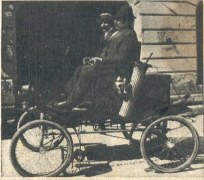 In 1895 Dalmiro imported a Benz four-wheeler, working on petrol. That's him in the white hat. Three years later he sold his De Dion Bouton to Marcelo de Alvear, who would later become President of Argentina. A Daimler car was also introduced around that time by Guillermo Fehling, who became dealer in several makes of automobile, including Buick.
Dalmiro and Adolphe met frequently in Paul Deschamps' shop. (Dalmiro had his glasses made by Paul.) Bleuette, then a little girl, would run to the street and climb upon those strange vehicles, which she loved. Naturally Dalmiro and Adolphe took her for rides, and in later years Bleuette was proud to say she had ridden in the 1st and 3rd cars to roll in Argentina.
Adolphe, instead of importing a car,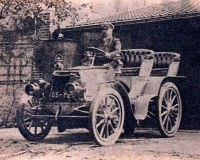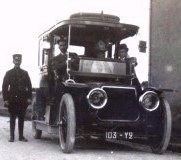 bought one in Paris and brought it to Buenos Aires with him aboard ship. It was another De Dion Bouton, a four-wheeler this time, painted yellow. He used it until around 1900 when he bought a new Panhard-Levassor That car had French plates, 103-Y2. Later, when he was living in France, he bought a new 1908 Panhard-Levassor Limousine which wore the same plates.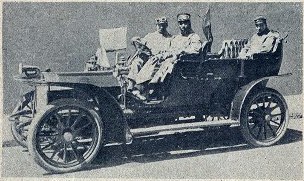 Around 1900, Dalmiro himself became a dealer in cars, Panhard and later Benz. Another friend, Victor Laborde, started selling Gladiator, Delaunay-Belleville and Aries cars, at a shop in Viamonte 727, one block away from Paul's shop.
By the end of 1900, there were 8 cars in Argentina -- the next year that number grew to 16, and the next year 129.
By 1903 Adolphe had made his fortune, so decided to return with Désirée to France, and live without working. He bought a manor house north of Paris at Pont de L'Arche, where he lived happily until his death in 1923. After his departure, every trip Paul Deschamps made to France included a week at the Neyer home.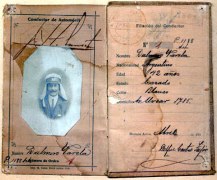 In 1904, Dalmiro founded the first car club of Argentina, the
AUTOMOVIL CLUB ARGENTINO, ACA
, which still exists as the biggest and most important here. Dalmiro's driving license was the first in the country, and in 1905 when car plates were made obligatory, his car wore Nº 1 plates.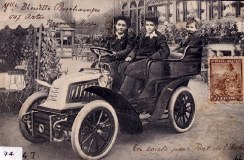 Paul Deschamps continued taking photos, and made "mock-pictures" by cutting faces from real photos and sticking them over post-cards, advertisements, etc. One such shows Bleuette and her brothers "driving" a De Dion Bouton on the way to Pont de L'Arche to visit Adolphe - "En route pour Pont de L'Arche".
Some historians say that in 1892 Dalmiro brought a Daimler, that the first car was a De Dion Bouton with a Benz motor in it, that in 1895 the car brought was a Daimler and not a Benz, etc. etc. etc. For myself, I'll take what my grandfathers said -- things they always heard at home - and Bleuette's memories, as first-hand facts, rather than argue with historians!