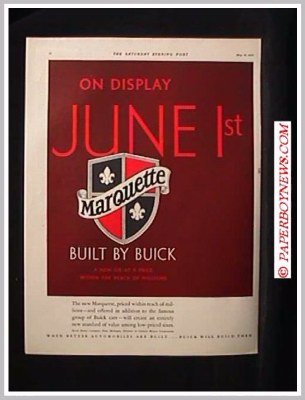 What's in a name: "Marquette"?
There were two makes of automobile bearing the name of Marquette, both under the auspices of Buick at General Motors and both built in Michigan. The first Marquette saw the light of day in Saginaw in 1912. This marque was an outgrowth of Billy Durant's appetite for small companies at the time he was building the GM "empire". Just after founding GM in 1908, Durant bought the Rainier Company of Saginaw (1907-11) and the Welch-Detroit of Detroit (1910-11), and both companies built cars under their own names during those years even after being acuired. That was how Billy Durant operated at the time.
Under GM the Marquette company was organzed in 1909 to build the Rainier and parts for the Welch-Detroit. But Durant had ulterior motives. In order to enter racing he needed another name, and so the Marquette-Buick was conveniently used for the revolutionary -- though not terribly successful -- Buick "Bugs", driven by Bob Burman and Louis Chevrolet in 1910.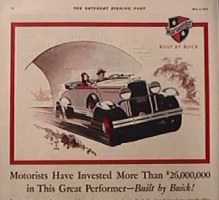 The Marquette car was offered in 1912 after Durant had lost control of GM for the first time. It appears that the Marquette name, already established as a subsidiary of GM, was used to finish off the production run of the leftover Rainier and Welch-Detroit cars. Then the four-cylinder, 40 hp and shorter-wheelbase 45 hp Marquettes were offered for $3000 to $4000, depending on body style. But the name was discontinued that September.
The Marquette Motor Car Company was changed to the Peninsular Motor Company in 1912. It also appers that the very last handful of Marquettes were registered as Peninsular cars in Michigan.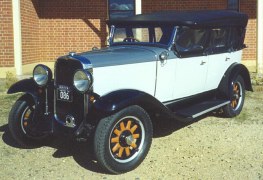 At GM, Billy Durant came and went once more, then founded Durant Motors. By the time this company under his own name was foundering. Even before the Stock Market Crash of 1929, the heads at GM decided to re-introduce the Marquette name as a lower-priced Buick. Alfred Sloan, GM president, and stylist Harley Earl (see other Feature on this website, "Why the Y-Job") were not totally out of their minds: the Pontiac, first built by Oakland in 1926, and the LaSalle, first built by Cadillac in 1927, were both very successful "derivative" lower-priced model lines under their own names. Buick's Marquette, this time built in Flint, was poised to fill in the less-expensive market niche of the model line. Intended to compete against the DeSoto, in reality the Marquette ended up cutting into Oldsmobile sales.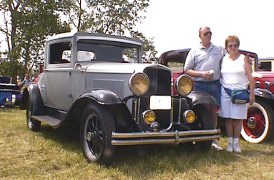 The first 1930 model Marquette, nicknamed "Baby Buick," rolled off the line in June of 1929 (and it appears that many were registered as 1929-model cars). These cars came to the public priced at an affordable $990 -- some $200 below the least expensive Buick. But few people if any had predicted the sudden economic disaster, and now the public was in no mood to spend money on new cars, let alone new
marques
.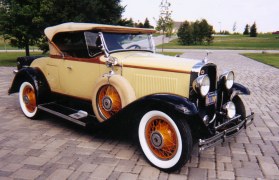 In all, 35,007 U.S. Marquettes were built, along with an additional 3,418 cars produced in Canada at plants in Oshawa, Ontario and Regina Saskatchewan. A total production run of nearly 40,000 cars is fairly impressive for a new marque, considering that it was introduced at the worst of times. Nevertheless, GM's business fell by 33% from 1929 to 1930, according to Alfred Sloan's memoirs.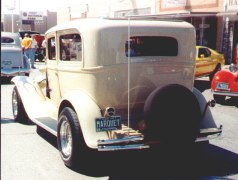 All the Marquette cars were built on a 114-inch wheelbase chasis and were powered by a 212.8 cid, 67.5 hp (at 3000 rpm) six-cylinder flat-head sidevalve engine. The motor was basically borrowed from Oldsmobile at little engineering cost, though the word is that Buick engineers did not like the flat-head six from the beginnning. GM advertised the Marquette as having "acceleration from 5 to 25 mph in 8.8 seconds." It was a light car capable of 70 mph, and test proved it was quite a performer. One such road test covered 778 miles from Death Valley to Pike's Peak.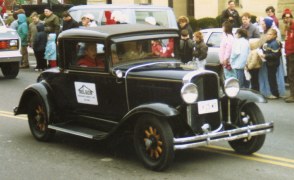 The Marquette's herringbone radiator grille set it off from all other GM offerings, which was precisely the strategy of the new "Art and Color" department at GM as well as of Buick president, Edward T. Strong, if not of the head of engineering at Buick, Ferdinand "Dutch" Bower.
Marquette model numbers indicated body styles. The Model 30 was a "Two-Door Sedan," the Model 34 was a "Sports Roadster," the Model 35 was a "Phaeton," the Model 36 was a "Business Coupe," the Model 36S was a "Sport Coupe," and the Model 37 was a "Sedan".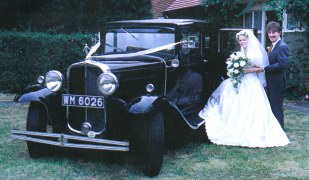 GM spent considerable effort in advertising the Marquette in order to use Buick dealerships as the sales outlets for the car. However, for 1931 the Marquette name was visible only on service signs and "orphaned" cars. Even though both separate efforts took many months of investment, development, engineering and marketing, these were the fleeting moments of cars bearing the name
Marquette
.
bbbbb aaaaa
M.O.R.E.
stands for Marquette Owners Registry for Enthusiasts.
Don Holton
, from Elmira, New York, would be glad to hear from Marquette owners worldwide. And we do mean "worldwide" -- wherever GM had offices, the Marquette was sold. M.O.R.E. registers Marquette cars from the U.S., Canada, Mexico, Brasil, England, France, Holland, Sweden, Norway, Germany, South Africa, New Zealand and Australia.