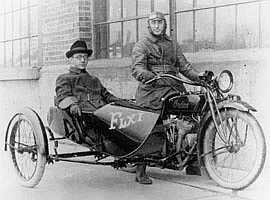 Hugo H. Young opened a Harley-Davidson agency in 1910 after starting as a graphic artist and engraver. In 1912 he invented a flexible connection for attaching a sidecar to a motorcycle, and the Flxible Sidecar Company was incorporated in 1914 for $25,000. Hugo Young's partner was Carl F. Dudte. (That's Young sitting in the sidecar there.) It was not until 1919 that the first "e" in "flexible" was dropped so the name could be copyrighted and trademarked.
At first the sidecars were assembled in Mansfield, Ohio; later in Loudonville, Ohio. In 1916 Young was granted patent 1,204,924 for a sidecar wheel design that allowed it to stay adhered to the ground as the motorcycle tilted when going around turns. This was a time of rapid expansion for Flxible when numerous motorcycle companies barely kept up with demand - companies such as Excelsior, Harley-Davidson, Henderson, Indian and Reading-Standard, among others. A native of Loudonville, Charles Kettering, famous for inventing the electric starter, became a vital influence in the success of the Flxible Company. Kettering had founded the Dayton Engineering Laboratories Company (Delco) which was sold to GM in 1916 for $2.5 million, giving Kettering enough cash to support the fledgling Flxible enterprise.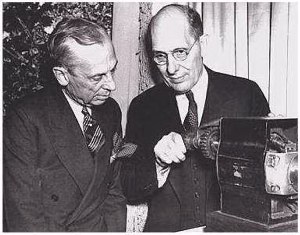 After W.W. I the demand for motorcycles dropped as cheap cars became widely available, among them the Ford Model T. In 1920 Harley-Davidson built just over 18,000 units while Indian about 19,600, but two years later those numbers fell by one third for Harley and by two-thirds for Indian. Also, due to many deadly accidents, sidecar racing was banned in the U.S. after 1925 (until resumption more recently). Buick gained fame for setting a record of 103 mph at Muroc Lake that year. Wild fluctuations in the motorcycle market lead Hugo Young and Charles Kettering (pictured, right) to go into the professional car and motorbus business by 1924. The first Flxible bus was a 12-passenger sedan built on a Studebaker chassis.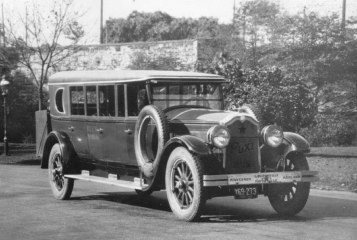 However, the following year Flxible chose a Buick chassis for its motorbuses, of which 31 were built that year. Between 1925 and 1928 Flxible built a few buses on Cadillac, Reo and Studebaker chassis, but most were built on Buick chassis.
Also in 1925 Flxible began building ambulances and funeral cars. Eleven were built that year and production doubled the following year. Buick's longest chassis in 1925 was 128 inches, so the first professional car and bus chassis were stretched by forty inches. Buick's largest motor used in professional cars was the 255 cid six-cylinder that produced 70 bhp. That year Buick abandoned hand operated windshield wipers introducing vacuum operated wipers, and also adopted balloon tires. The following year the combination starter/generator was superseded by separate units which were more efficient and reliable.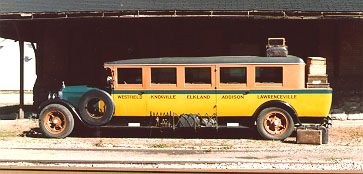 After Walter P. Chrysler left Buick in 1920, Harry H. Basset became president, but died of pneumonia in October 1926. Edward Thomas Strong took over for 1927. That year total Buick production was 235,000 for the model year, and the 2 millionth Buick was built in 1927.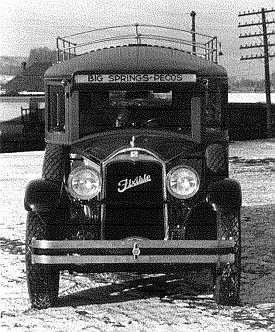 By 1927 Flxible built 119 motorbuses and 40 professional cars. In 1928 those numbers went up to 159 and 124 respectively, and for 1929 the numbers were 112 and 264. Sales totaled $528,796 for 1929, which also included sidecars and auto bodies, which were a very small fraction of the business by then. Buick increased the size of their six-cylinder engine to 331 cid and 99 bhp for 1930. In 1931 the company switched to a new straight eight engine which had a cid of 344 and produced 104 bhp. It featured an oil temperature regulator that either cooled or heated the engine oil depending on conditions. The Shafer Buick 8 qualified for the Indy 500 at 105 mph that year. Buick's longest chassis for 1931 was the Series 90, which was 132 inches but still had to be stretched for bus and professional car applications.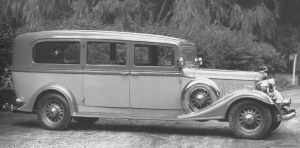 As the Great Depression ensued, business plummeted for Flxible. Bus production dropped precipitously from 81 in 1930 to 77 in 1931, 11 in 1932, 10 in 1933 and only 6 in 1934. However, people continued to be hospitalized and die at the same rate as before, and so the ambulance and hearse business sustained the company. Combined ambulance and funeral car production was as follows: 213 for 1930, 182 for 1931, 171 for 1932, 222 for 1933 and 156 for 1934. Twenty buses were repossessed during these years whereas only three professional cars were repossessed for the same time. Flxible's CPA recommended to scrap the remaining sidecar inventory in 1933.
Business at Buick also fell dramatically. For 1933 Buick model year production was only 43,247. That year Harlow Curtis took over as president of Buick and remained there into W.W. II. The year 1933 was also the year Buick finally adopted hydraulic brakes as standard equipment. Buick's overhead-valve straight eight motor's cid remained the same but bhp was increased to 116 for 1934, the year Buick shipped 7,367 stripped chassis for export and professional cars. That numbered dropped to 4,993 for the next year.
Due to financial woes Flxible began offering a cheaper bus, called the Airway Coach, which was based on a less expensive Chevrolet truck chassis. The Airway Coach, which was first introduced in 1932, was distinguished by its round back. The body was built on a wooden frame.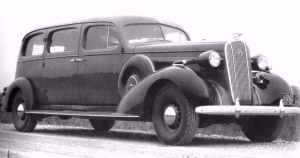 By 1935 Flxible was in the black again with sales reaching over half a million dollars, although profits amounted to only $10,300. The Airway Coaches sold well but professional car sales lagged with 174 for 1935 and 206 for 1936. In 1937 Flxible introduced a C.O.E. bus, again based on a Chevrolet truck chassis having a wooden frame. This was the 25-passenger streamlined Clipper. That year professional car production also jumped to 306, and overall, sales increased to over $1.1 million.
For 1936 Buick's excellent motor now produced 120 bhp, and that year the 3 millionth Buick was produced. Cowl mounted wipers were introduced for 1937. By 1938 horsepower was up to 130 and Buick shipped 12,692 stripped chassis.
In 1938 Flxible repaid all of its loans to Charles Kettering, who had helped the company stay afloat during the lean years. Strangely enough, Kettering was director at both GM and Flxible for 31 years before the United States Department of Justice Antitrust Division filed a complaint in 1956. The legal wrangling dragged on for nine years and outlived Kettering, who died in 1958.
By 1938 Flxible built 373 Buick-based professional cars. The number dropped to 275 for 1939, but bus production rose from 148 to 282 that year over 1938. A new bus production factory was built in 1940. The successful Clipper buses were available with either Chevy six-cylinder engines or Buick FB 320 straight-eights, which now produced 141 bhp.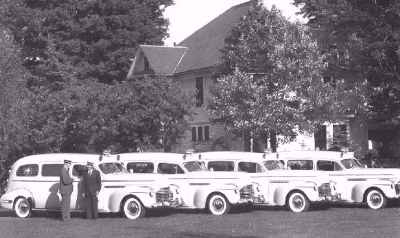 Professional car production rose again to 542 in 1940 and 503 for 1941, the last year of production before complete conversion to the war effort.
About that time, Buick changed its body design entirely and introduced the two-way hood, which could be opened from either side or removed completely. The design was clever if at least one side remained latched. It was possible to leave both sides unlatched, allowing the hood to fly off at high speed, sometimes causing extensive damage and injury, in which case a Buick/Flxible ambulance might have to be summoned! Other manufacturers including Packard later used the same design and when it was called into question the companies shrugged it off, leaving it to the responsibility of the vehicle operators, and the same design continued after the war.
Flxible continued to use Buick chassis for its professional cars after W.W. II, although not exclusively. As a company Flxible lasted until 1996, when it filed for bankruptcy and its assets were auctioned.
Many thanks to Walt McCall, author of "Classic American Ambulances", a remarkable album published by Iconografix, P.O. Box 446, Hudson, Wisconsin 54016.
Special appreciation also to Bud Hoover of Flxible Owners International. Visit their new website at
www.flxibleowners.org
.