Our very welcome guest is Andy Chrisanfov, corresponding from Moscow on the subject of -- you guessed it -- old Buicks. Andy is a journalist with Auto Review, and an automotive historian.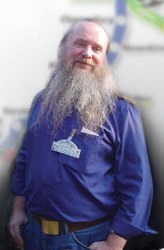 "Over here," says Andy, "we used to have a fair amount of pre-war Buicks. But in 1954 there was an attempt to get rid of all the war trophies and put the average Moscow citizen back on the streetcar. All pre-war machinery, regardless of origin, was ordered off of Moscow streets. Therefore, nearly all of the pre-war Buicks had to dwell outside the city. I remember a '39 Limited sedan, badly wrecked (head-on collision) but still on the road; a pair of Centurys departed as far as Vilnius, and a Special four-door relegated to a Moscow suburb."
"Some owners did not comply, however, and those Buicks remained here -- including a strange contraption hand-built off the remains of a '39 Special coupe, complete with tail fins! At least one '39 Special perseveres, and a '38 Special six-window has appeared from nowhere with a '36 radiator badge. A '48 Super cabrio might be excused as it has a pre-war body. There were two identical roadsters from 1931, one green and the other white, but the latter disappeared from public view some 10-12 years back. Also missing is a '42 Limited frequently seen on downtown streets in the early Sixties."
From the Chrisanfov photo archives: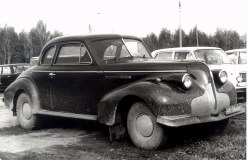 "The '39 coupe, here and at top of page (color), seems to be the same vehicle some 30 years apart. Front bumpers are incorrect in both cases. On the older snapshot, license plates are regional from late '60s; the current plate is obsolete as well but far more recent. Unexplained is the disappearance of the fender crown lights."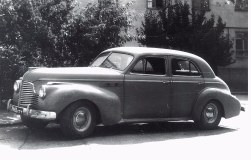 "This car at right looks like a 1940 B-body Super, though the number plates are definitely neither Moscow nor its environs."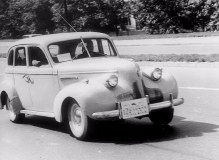 "This '39 six-window is carrying old car rally plates that say 'Kaunas to Vilnius: 1917-1977' and evidently celebrate the Revolution anniversary, even though Lithuania had nothing to do with this event."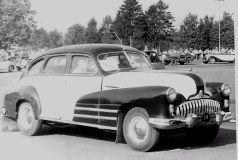 "By comparison, this '47 Special (note the hood badge!) off the '42 basic body is Latvian, not Lithuanian, and was photographed in '84 in Uteka (Latvia). Front bumper is wrong again of course; it's Russian from the GAZ-13ZIM limousine, and the toothed grille insert is pure Volga GAS-21 ('deluxe' because it's chromed, not painted), suitably bent and frenched to fit the opening.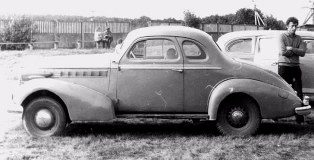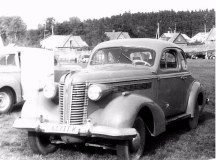 "A bumper from that same Volga thing adorns the front of a '38 coupe, evidently Special, with license plates stating that it's a private vehicle from the city of Gorky, where the GAS auto factory is located (now called Nizhny Novgorod again as it was called from the very beginning.)"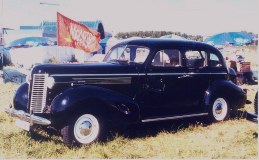 "Red banner behind this '38 Special at last year's AutoExotica reads 'Molotov Garage' -- the restorer's logo, a play on words with Molotov Cocktail. This restorer usually deals with Russian-built cars but not always. The source of its round '36 logo replacing the correct one up front remains unknown: no '36s in or around Moscow. A horn button, perhaps? But definitely not from this car..."
"Temperatures well below zero Centigrade are common for Moscow -- this year we had 28 below for a week or so -- and if you leave water in your cooling system for one such night the engine block will inevitably crack. I know of a '34 Packard Twelve phaeton riding on a Russian truck engine and tranny; also a '47 Chevy sedan on Volga axles and assorted Russian inner works; and a '38 Caddy 60 special on that same truck powerplant -- a six from postwar GAZ 51."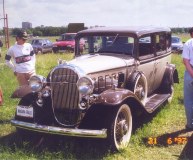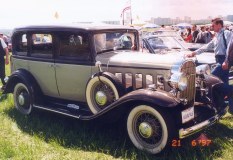 "This '32 six-window materialized out of thin air back in '97 and was never seen after. It's an import: note the totally incongruent plates (Niagara Falls, New York) and wrong hood mascot, lifted I believe from a Ford.
Nevertheless, it was a 1932 Buick that served as a model for the first Soviet luxo-limo back in the Thirties -- the so-called L-1 (limousine-1), which was a carbon copy of its American progenitor, but only seven copies were produced and none have survived.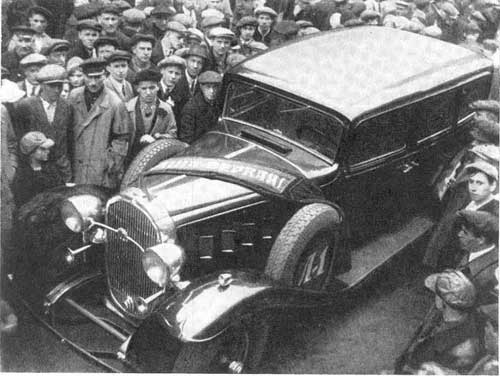 Even later, the production ZIS top-model was referred to as having "body of the '34 Buick type" in our magazines -- which did not happen of course, as its final body was pure Turret Top and the front clip completely different.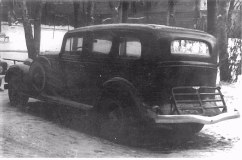 The only known snapshot of this car, a '34 Series 90 with wood trim and glass partition inside. I saw it and spoke to its owner but that was years ago, and attempts to trace it since remain fruitless. It may now be secluded in some 'Shanghai' (a common Russian word for a flock of improvised garages along the railroad tracks on the former city outskirts which by now are not outskirts any more)."
"Moscow is a fairly strange place these days. Last year the AutoExotica stands boasted a real -- not replica -- 1928 Auburn Speedster (seen it myself), and there are tales circulating about a Cord L-29 somewhere in the garages out of the public eye. But the post-war Buicks usually make the scene; these are newer and better preserved."
Some cars are better "preserved" than others. Brace yourself: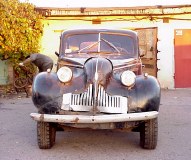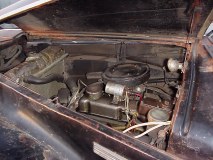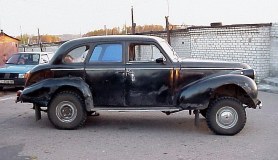 Originally built by General Motors Suisse, the current engine's from a GAS-24, transmission from UAZ, rear suspension from "Chayka". These three images were gleaned by AB in Australia.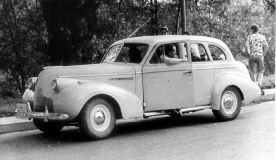 Andy Chrisanfov continues: "This is the same white '39 sedan seen at speed above, taken in the early '80s at an old car rally somewhere in the Baltic States.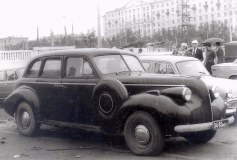 The black Century sedan with sidemounts was caught live at the only spot in Moscow where a private person could buy or sell his used car in those days -- a vast and normally empty spot near the Southern river cargo port. The big edifice in the background was the last residential building for miles and miles."
b b b a a a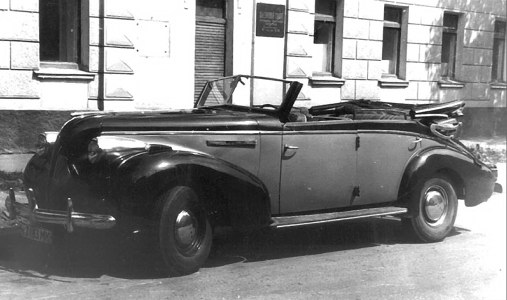 Finally, a treat saved for last. This custom-bodied 1939 phaeton is reportedly badged as being from the house of Glaeser, coachbuilders in Dresden, Germany.
The registration plates in the second photo (which may well be the same plates as in the large photo) are from Odessa, and the passengers' attire resembles that of the comic team "The Odessa Gentlemen", fairly popular there.
The picture might have been taken at one of the Odessa's "Humorina" or humor festivals. (Odessa is a port city on the Black Sea.) Where is this car today?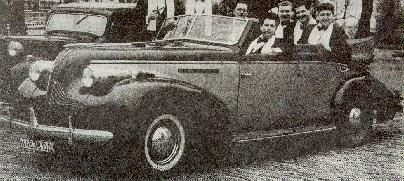 Interested in Buicks or other automotive goings-on in Moscow?