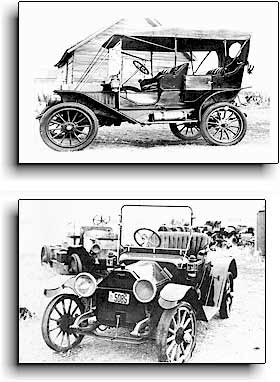 1909 Buick McLaughlin description:
This 1909 McLaughlin open tourer was built in Oshawa, Ontario by the legendary "Col." Sam McLaughlin. It was restored to its present condition by Isaac Clarkson and has been kept in excellent running order.

Powered by a 4-cylinder, twin-block, four-stroke engine, the McLaughlin features the famous "caged valve" assemblies, a design later useful for quick valve-and-seat conversions on aircraft engines.

With a road speed of about 35 miles per hour flat out, the car was a match for the roads at that time. McLaughlin engineering featured elliptical springing, extensive use of brass trim, folding windshield and Pres-To-Lite acetylene gas headlamp system, yet still retained right-hand steering with outboard gear change and brake levers.

Also illustrated here is a 1913 McLaughlin 30 roadster in rather less happy condition.

The Manitoba Auto Museum in Elkhorn looks like it'd be well worth a visit if you're in that area.