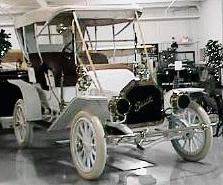 1909 Buick 10 Tourer description:
8100 of the Model 10s were built, in various body styles.
Many people don't realize how popular and successful the Buick Model 10s were in the "ought" years of last century. The tough, strong engines and worthy chassis in these cars had few peers, and were recognized at the time as remarkable.

On July 17, 1913, a Model 10 Buick of 1910 vintage became the first car to climb Pike's Peak unassisted.

While contemporary Buick trucks certainly were built and sold in some numbers, it's equally true that quite a few Model 10 Buick automobiles found a second life in utility applications -- even as fire engines, notably in Joplin, Missouri. The "housecar" conversion seems to have been popular, too.