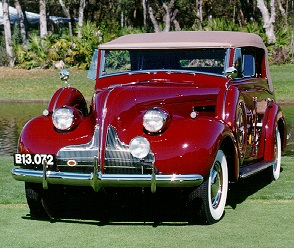 1939 Buick RedFern Salon Tourer description:
from The Dutch Classic Car Resource at www.vintageweb.net
Now owned by Floridian John Beebe, this unique Buick dual cowl phaeton was originally at the New York Auto Show in 1939, before being acquired by a Danish furniture manufacturer [Redfern?], who intended to bring the car to Europe.
But by the time all the paperwork had been completed, the Germans had invaded Denmark, putting a halt to those plans. The car slept in the basement of a U.S. furniture factory until the war was over.
In 1960, the Danish owner died and left the car to his chauffeur. Ten years later, a GM executive touring a supplier's factory in Denmark was told by the limousine driver that his friend had a 1939 Buick dual cowl phaeton. The executive knew that no such production car had ever been made by Buick. He bought the car and brought it back to the U.S., and the first restoration took from 1982 to 1985.
According to Beebe, the car had several owners between 1985 and 1992, when he acquired it. He then authorized a complete mechanical restoration, which he decided to check out by taking a little "test drive." Instead of a spin around the block, Beebe drove the car over 10,000 miles in the summer of 1994 in a classic car club tour. The tour left from Newport, Rhode Island and wound up in San Francisco. Beebe took the long way home, via Canada, including stops in Vancouver, Lake Louise and Banff.
The car features fitted luggage for the odd-shaped truck, and a locking tool kit in the rear tailgate which includes a jack, tire pump, grease gun, hammer, pliers and screwdrivers, among other things.