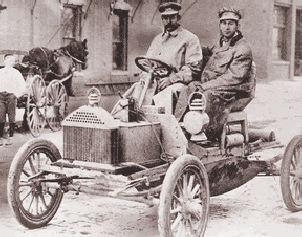 1904 Buick Tom Buick description:
That's Tom Buick, son of David Dunbar Buick, on the right, in July 1904.
Buick's chief engineer, Walter L. Marr, and David Buick's son Thomas started out Saturday, July 9, 1904 at 1:15 p.m. from Flint's Sherman House hotel on a 90-mile route to Detroit via Lapeer. A rear-bearing failure caused them to spend the night in Lapeer. They arrived in Detroit on Sunday, the Flint Journal reporting "the distance from Pontiac to Birmingham being covered in 10 minutes." They bought car license No. 1024 Monday and headed back to Flint Tuesday. Driving in a steady rain through the small towns of Pontiac, Oxford and Lapeer, Marr averaged more than 30 miles an hour. "The roads were deep in mud every mile of the way," Marr said. "I did the driving and (Tom) Buick was kept busy wiping the mud off my goggles".

In one town they were challenged to a race by an electric car but the Buick "showed them the way," Marr said. "We went so fast at another time that we could not see the village six-miles-an-hour sign. At one place, going down a hill, I saw a bump at a bridge too late to slow up. When I hit it, I threw on all the power and landed over it safely on the road. Buick was just taking a chew of tobacco, and a lump of mud as large as a baseball hit him square in the face, filling his mouth completely. We were plastered with mud from head to foot when we reached Flint".

Marr drove this first Flint Buick directly to the office of the Flint Journal on his return. "The machine made the run without a skip," he boasted. "It reached here in the best of condition. We took the hills handily with our high-speed gear and the machine sounded like a locomotive." Back at the plant Marr told the Flint Wagon Works directors, "well, we are here."